We have released the republished version of the Classic Starfire scenario book, Insurrection! You can now find it on WGV.
http://www.wargamevault.com/product/228857/Insurrection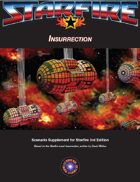 IMPORTANT NOTE ABOUT THE LEGACY CD!
There have been a few observant players asking when these three updated supplements will be added to the Legacy CD. With any luck, that should happen tomorrow. I'm uploading the new master and it should finish sometime tonight. I will post when the new version goes live, I would recommend if you are considering purchasing the Legacy CD that you wait until I make this announcement, as we cannot go back and cancel or change your CD order once placed with our third party vendor.